15 maja 2017
Rosyjska firma antywirusowa Doctor Web opublikowała dziesiątą wersję swojego darmowego antywirusa dla Androida—Dr.Web Light dla Androida. Aplikacja szczyci się znacznie poprawionym Interfejsem Użytkownika i unowocześnionymi funkcjami; od teraz wspiera ona również Androida 7.1.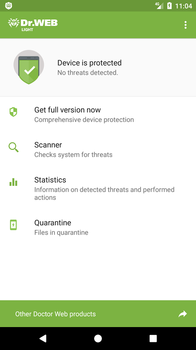 Ulepszenia wprowadzone w interfejsie Dr.Web Light dla Androida czynią go bardziej przyjaznym użytkownikowi. Od teraz aplikacja wykorzystuje pojedyncze okno zdarzeń w którym wyświetlane są wszystkie powiadomienia o zagrożeniach.
Co więcej, wersja 10 została wyposażona w nowy silnik antywirusowy i cieszy się rozszerzoną detekcją malware.
W celu lepszego rozwiązywania problemów aktualna aplikacja zbiera też i zapisuje do dziennika zdarzeń dodatkowe informacje o pracy programu.
Dla wygody użytkowników Dr.Web Light dla Androida zostanie zaktualizowany do wersji 10.0 w sposób automatyczny. Jeśli automatyczne aktualizacje są wyłączone w Twoim urządzeniu, musisz wejść na Google Play, wybrać z listy aplikacji program Dr.Web Light i kliknąć "Aktualizuj".
Tell us what you think
To ask Doctor Web's site administration about a news item, enter @admin at the beginning of your comment. If your question is for the author of one of the comments, put @ before their names.
Other comments